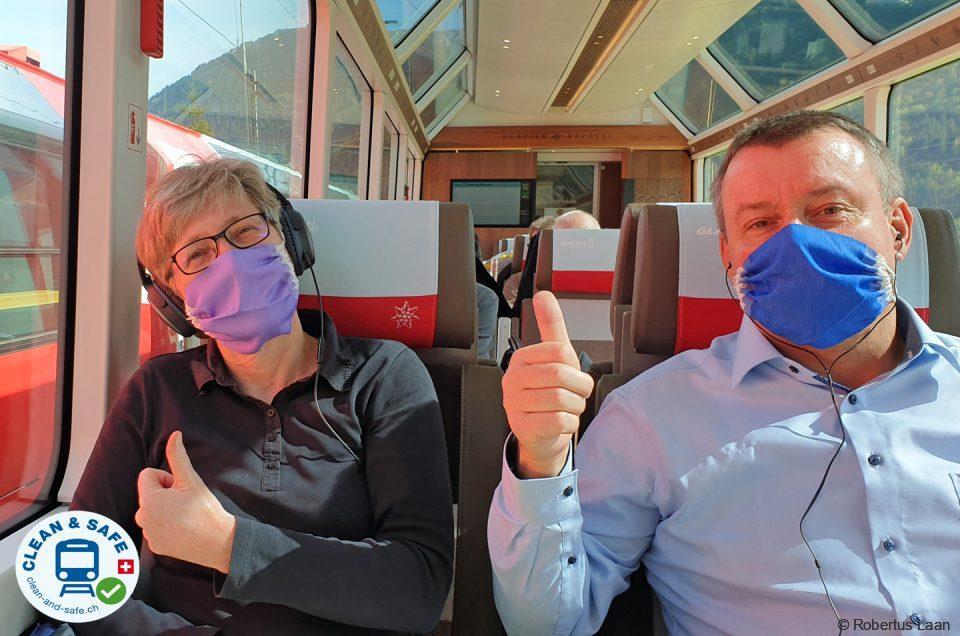 Travelling with precautions is well possible, such as here at the Glacier Express
As we all know, there is a lot of uncertainty these times regarding travel regulations and quarantine measures. We therefore understand, the reluctance in bookings.
But, knowing there is light at the end of the tunnel, you certainly want to plan for your vacation in Switzerland in 2021 or 2022 and we are there to help you with this.
Travel is possible and all trains run on normal schedule. Only a mask is still mandatory on all public transportation and in shops.  For entry in Switzerland all EU Covid certificates and most others are valid. Please check the website of your local government about travel regulations to prevent unexpected problems upon entry. Non EU Covid certificates may have to be converted into a Swiss Covid certificate for entry in restaurants and public areas such as museums. Please check the official website of the Swiss Government for certificate details and full information about the corona virus measures.
Because of the current situation, we have changed our terms and conditions for greater flexibility. All booked tours can be changed to a later travel date free of charge until 14 days in advance.
We are open for enquiries for tours! Book now, travel later!