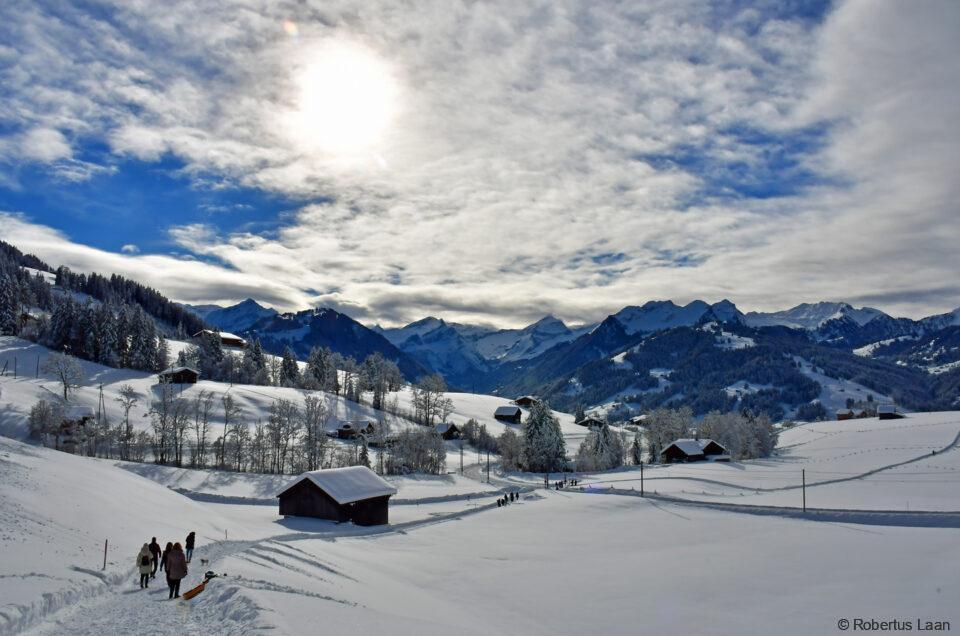 Winter wonderland near Gstaad

Winter fun in the Swiss Alps
When people talk about winter, most people think only about skiing and packed ski resorts. Of course, skiing is probably the best-known winter activity, however, there are so many other things to do.
When the first British tourists came to Switzerland in the winter in the early 20th century, they mostly enjoyed ice skating, because skiing wasn't really known as a sport at the time. Later, after the skis were introduced, the first ski descents were made. However, there were no ski lifts and no prepared ski slopes, so it was not so easy to ski down. Moreover, in most cases, one had to hike up, carrying the heavy skis, not really a pleasure. In some areas, the existing mountain railways opened in winter, allowing at least an easy ascent. So skiing became more popular.
Anyway, why choosing a winter tour, when you don't ski? There are many well-prepared winter hiking paths, allowing one to enjoy the winter landscape. As soon as the sun comes out, despite cold temperatures, it is very pleasant to walk around. The snow reflects the sunlight and the crisp mountain air as well as the deep blue skies allow for a unique experience. When properly dressed, even below freezing temperatures are no problem at all.
When visiting one of the many viewpoints (see our excursions), you may experience an unbelievable clear panoramic view of the surrounding mountains. This is caused by the relative low humidity on higher elevations. Very often, there is dense fog in the valleys and one does not expect that higher up, above the fog, the views are excellent and in most cases the temperatures are higher too.
In short, winter is also a perfect time of the year to travel.